Cadillac Eldorado Convertible 1975
| | |
| --- | --- |
| Brand | Cadillac |
| Model | Eldorado |
| Category | Oldtimer |
| Model year | 1975 |
| Mileage | 39 000 km |
| Engine | 8 196 ccm |
| Engine power | 163 kW (222 hp) |
| Car's body | limousine |
| Number of doors | 2 |
| Color | brown metallic |
| Fuel | petrol |
| Price | 489 000 CZK |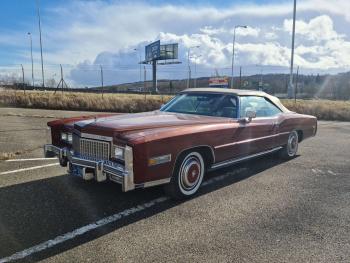 Description
​
Two-door six-seater convertible, front engine and front-wheel drive. Petrol, liquid-cooled eight-cylinder fork (V8), OHV distribution, volume 8200 cm3, bore 109.2 mm, stroke 109.3 mm, compression 8.5, two valves / cylinder, Rochester carburettor, without supercharging, power 142 kW (193 horses) at 3600 rpm, torque 488 Nm at 2000 rpm, automatic three-speed transmission, wheelbase 3208 mm, wheelbase 1618/1615 mm, external dimensions: length 5692 mm, width 2027 mm, height 1375 mm, standby weight 2345 kg, maximum speed 180 km / h, acceleration to one hundred in 11.0 s. front disc brakes, rear drum
Cadillac is in beautiful condition from the second founder, currently has a valid registration of a historic car. The car has the original US Title, customs declaration, user manual.
The car is fully functional.
We will be happy to send you further information or photos by e-mail or Whatsapp or by phone +420604200200
Photos of Cadillac Eldorado Convertible 1975
More information
If you need any further information, please contact us.
Items marked with an asterisk are required.
Send